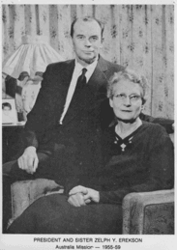 President Zelph Y Erekson
Address not available

Email Not Available

Served: 1955 - 1959
Associated Alumni
Comments:
President Erekson has passed on to a better place. Their son Allan, who was with them in Australia is employed
by the Church as a building architect. He can be reached at (801)
240-4977.
LDS QUOTE:
"You are a great army of returned missionaries. Go forward with new zeal and determination, and through your example shine the light of the gospel in this troubled world. This is the Lord's work in which we are engaged. God lives. Jesus is the Christ. We belong to His Church. This is my witness to you in the name of Jesus Christ, amen."