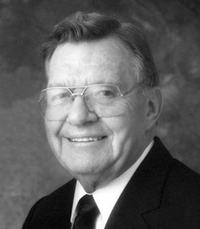 F. Briton McConkie 1918 ~ 2008

BOUNTIFUL- F. Briton McConkie, son of noble and goodly parents Oscar W. and Margaret Vivian Redd McConkie, passed away peacefully, surrounded by family at his home on Sunday, April 6, 2008 from causes incident to age. His mother made the journey from Monticello, Utah to the LDS Hospital in Salt Lake City where he was born on May 13, 1918. The spiritual recollections, miraculous interventions and sound teachings during his early years in Monticello formed a foundation of faith on which he built throughout his life. Dad saw the hand of the Lord in every aspect of his life.

He attended the University of Utah, earning his B.A. and J.D. degrees. He was a practicing attorney, first as a sole practitioner, then in partnerships with his father and later his brother, Oscar. In 1967, he and Oscar joined with Wilford W. Kirton, forming the law firm of Kirton & McConkie. Though prominent in his profession, Dad was not defined by his career. He saw the practice of law as an opportunity to serve others. Dad served his country from 1941 to 1946. As a commanding officer, he was awarded the Purple Heart, the Bronze Star and the Soldier's Medal for heroism. He was loved by his men and his time in the armed service was rich in faith promoting incidents. During the Battle of the Bulge, "not a day went by without substantial evidence that my life was being preserved. I was saved from certain death on many, many occasions." He married Beth Bonnie Merrill in the Salt Lake Temple on the 26th day of May, 1942. They raised eight children, Bonnie (Stewart) Wright, Brit Jr. (Jann), David (JoAnne), Richard (Julene), Michael (Gina), John (Leslie), Julie and Paul (Lynne).

Dad offered a lifetime of service in many positions of responsibility, but he expressed that his greatest utility to the Lord began in 1975 when, at age 57, his legal work took him to the Philippines. There he was called by Elder Gordon B. Hinckley to be a Patriarch and was privileged to give blessings in Korea, Hong Kong, the Philippines, Malaysia, Singapore, Indonesia and Thailand. Dad loved the Asian people and said of his time in the Philippines that he "felt he had died and gone to heaven." Dad was full of missionary zeal and served as a full-time missionary in the Eastern States Mission and as a stake missionary in the Ensign and Bountiful Stakes. Time serving in Asia prepared him to be president of the California Los Angeles Mission where people of many cultures joined the Church during his tenure. He served as a counselor in three Stake Presidencies. He also served in the Bountiful Temple and in the Salt Lake Temple Presidency. In 1990, the Lord allowed dad to return to Asia to serve as president of the Manila Philippines Temple. It was a joyous day when he and Beth attended a temple session in the Philippines with 20 members of the Church, all to whom he had given a Patriarchal blessing.

Dad is preceded in death by his parents, his brothers, Bruce R. and James W., his infant son, and infant granddaughter. He is survived by his choice sweetheart, Beth, a faithful partner in marriage and missions for more than 65 years. Truly dad and mom are one. He is also survived by his brothers, Oscar (Judith), William (May); sister, Margaret (Bill) Pope; eight children, 38 grandchildren, 40 great-grandchildren and many others who feel to call him dad, brother or grandpa. Funeral services will be held on Friday, April 11, 2008 at 12 noon in the Bountiful 9th Ward Building, 585 East Center St., Bountiful. Viewing will be Thursday, 6:30-8 p.m. at Russon Brother Mortuary, 295 N. Main, Bountiful. Friends may also call Friday from 10:30-11:30 at the church before the funeral. Interment at the Salt Lake City Cemetery. Online guest book www.russonmortuary.com.

We wish to express our thanks to each of you who have shared your love, faith and abundant life with Brit and Beth.