New Search | Add Profile | Edit Profile | Delete Profile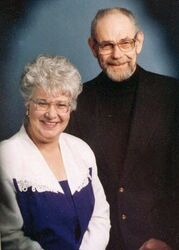 Bill & Marj Cooper
220-9200 Blackfoot Trail SE
Calgary, Alberta T2J 0T2
Canada
403-279-9496

Send Email
Comments:
We lived in Kamloops, BC for over 40 years and were baptized there in 1972. We were always happy to have missionaries visit us and were very proud when our own son served in the Nevada-Las Vegas Mission in 1984-86.
We have kept in touch with dozens of "our missionaries" over the years, many of whom are now grandfathers!
We hope to continue to do so.
We have been overjoyed to be visited by many great missionaries since moving to Calgary.