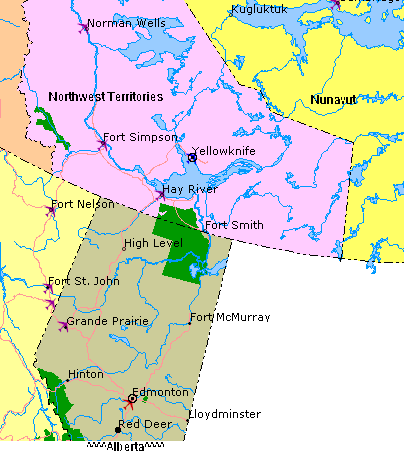 © 2001. Government of Canada with permission from Natural Resources Canada.
The Canada Edmonton Mission covers the northern part of the province of Alberta, Northeast British Columbia and the Northwest Territories. There are six stakes and one independent branch. The stakes include one in Red Deer, four in Edmonton ie. Bonnie Doon Stake, Millwood Stake, the Riverbend Stake and Edmonton North Stake, and one in Grande Prairie. The independent branch is located in Yellowknife, Northwest Territories and is the largest branch in the Church covering all of the Northwest Territories and Nunavut, which is a newly formed territory comprising the eastern part of the old Northwest Territories.

The Grande Prairie Stake is larger than the state of Utah with thirteen wards and branches. Yellowknife has approximately 100 members with 50 living close enough to attend Church. The others are contacted by telephone or radio and are scattered throughout the remainder of this vast territory. There are missionaries serving in Yellowknife.