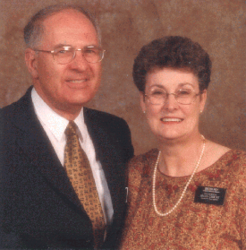 President Albert Roy
Address not available

Send Email
Spouse: Aileen
Served: 2001 - 2004
Associated Alumni
Your Occupation: Retired
Comments:
Saturday, March 31, 2001
LDS Church News

Albert Roy, 60, Glasgow Ward, Glasgow Scotland Stake, will preside over the Canada Edmonton Mission; was manager of road services of the West Dunbartonshire Council; earned civil engineering degree from the Dundee Institute of Art and Technology, later became a chartered engineer; born in Dundee, Scotland, to Albert and Mary Smith Ferguson Scobie Roy. Married Aileen Fraser Ross; four children. She was born in Dundee, Scotland, to George Sudders and Charlotte Watt Fraser Morrison Ross.
LDS QUOTE:
"You are a great army of returned missionaries. Go forward with new zeal and determination, and through your example shine the light of the gospel in this troubled world. This is the Lord's work in which we are engaged. God lives. Jesus is the Christ. We belong to His Church. This is my witness to you in the name of Jesus Christ, amen."