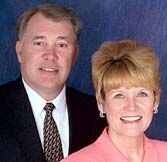 Presidente Michael L. Hawkins
Dirección no encontrada

Mandar Mensaje
Esposo(a): Iva
Sirvió: 2003 - 2006
Ex misioneros asociados
Comentarios:
Saturday, May 17, 2003
LDS Church News

Michael L. Hawkins, 52, Chile Concepcion South Mission; Stockdale Ward, Bakersfield California Stake; former stake mission president, counselor in stake presidency, high councilor, bishop, stake executive secretary, gospel doctrine teacher and missionary. President Millennium Energy. Born in Raymond, Wash., to Roy Williams and Bernice Elsie Hawkins. Married Iva Pearl Oliver, five children.
A seminary teacher for 10 years, ward Sunday School teacher, she is a former ward missionary, gospel doctrine teacher, ward Young Women president, counselor in ward Relief Society and Young Women adviser. Born in Perry, Fla., to Noah Albert and Vannie Earline Koslowski Oliver.
Modificado: 2005-12-05
Última entrada: 2006-06-01 11:19:48.716158-06


| | |
| --- | --- |
| | |
| | | | |
| --- | --- | --- | --- |
| | Copyright © 2010 LDS Mission Networksm · mission.net / ldsmissions.net · All rights reserved. | | |