This site is a gathering place for people who served as full-time missionaries for The Church of Jesus Christ of Latter-day Saints in the Chile Osorno Mission. Missionaries who served in the area prior to the actual formation of the mission are also welcome.
Where mission alumni are listed in chronological order, the dates shown are the dates of service (including MTC) not necessarily the dates that a particular missionary was located within the boundaries of the mission. Married names are shown in parentheses.
This site contains pictures and text about the mission or mission life. Alumni are encouraged to add pictures and text, but should follow certain guidelines for determining what to submit.
The photos displayed on this site are not intended to be an exhibition of art. Instead, they portray scenes common to the eye of the missionary. An attempt has been made to affix a date to the photos. These pictures do not necessarily show Chile as it exists now, but as it existed at the time of the photo.
Site Maintainers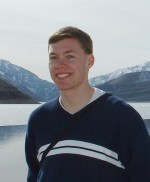 The Chile Osorno Mission Alumni Website is currently maintained by Nicholas Barrett, who served from May 2000-2002.




The site was redesigned in February 2003, and the Alumni listings have been updated with over 50 additions.









This site first went online August 20, 1996. It was created and by Mike Anderson (1983-'84), who maintained it until February 2003.

For anyone that worked in the mission long enough ago, this daguerrotype of Elder Anderson is shown to the left.