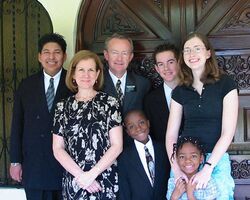 President David Daines
Address not available

Send Email
Spouse: Jennifer Ann Doan Daines
Served: 2002 - 2005
Associated Alumni
Your Occupation: business management, food production
Comments:
September 2009 Update

Home base is Smithfield, Utah, where we are happy to be close to our extended families and to several of "our" returned missionaries.

I am working as a Field Program Officer for the US Agency for International Development (a branch of the State Department) in rural Afghanistan, conducting stabilization and reconstruction projects in areas recently cleared of fighting. I expect to finish in March 2012.

LeeAnne and Carlos have two children, Carlos and Lucas. They live in Logan, where Carlos just graduated from Utah State.

Nate lives and works in Logan, so we enjoy his frequent visits for home-cooked meals. Dan served in the Ohio Cincinnati Mission, and he is now working and studying here in Cache Valley. David is serving in the Texas Lubbock Mission until March 2012. Jamie is now a teenager, and he is doing well in school and sports. Laurie, who just turned 12, is also doing well and enjoying life.

Sister Daines is the current "Pres. Daines"... of our ward Primary, that is. She loves it.

We miss everyone and are anxious to hear from our fellow returned missionaries! Please keep us posted.

With much love, gratitude and admiration for each of you,

President and Sister Daines

ps. Si usted no entiende todo este mensaje por falta del inglés, que entienda como mínimo que lo (la) queremos mucho y esperamos poder saber de usted con frecuencia.