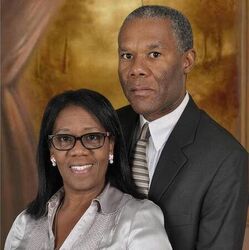 Karlyle Raphaël
: Myrlande Michel Raphaël
: 2015 - 2018
:

From the Church News 24 March 2015

Karlyle Raphael, 48, and Myrlande Michel Raphael, three children, Petit Place Cazeau Ward, Croix-des-Missions Haiti Stake: Haiti Port-au-Prince Mission, succeeding President Hubermann Bien-Aimé and Sister Maggy Bien-Aimé. Brother Raphael serves as a high priests group instructor and is a former assistant to the regional auditor, high councilor, bishop and ward Sunday School president. Facilities manager, Corporation of the Presiding Bishop. Born in Ouanaminthe, Nord' Est, Haiti, to Edec Raphael and Aidé Pierre Raphael.

Sister Raphael is a former stake Relief Society secretary, ward Relief Society and Young Women presidencies counselor, ward Primary teacher, ward Sunday School teacher and ward Relief Society meeting coordinator. Born in Port-au-Prince, Ouest, Haiti, to Stinvil Michel and Carmelite Rabel Michel.


---

Karlyle Raphael, 48, et Myrlande Michel Raphaël, trois enfants, Paroisse de Petit Place Cazeau, Pieu de Croix-des-Missions Haïti: Mission d'Haïti Port-au-Prince, prenant la place du Président Hubermann Bien-Aimé et Sœur Maggy Bien-Aimé. Frère Raphaël sert comme instructeur d'un groupe de hauts prêtres et il a servi en tant qu'assistant au vérificateur régional, membre du grand conseil, évêque, et président de l'Ecole de Dimanche. Gestionnaire des installations physiques, Société de l'Evêque Présidant. Né à Ouanaminthe, Nord-Est, Haïti, de Edec Raphaël et Aidé Pierre Raphaël.


Sœur Raphaël a servi en tant que secrétaire de la Société de Secours de pieu, une conseillère dans une présidence de la Société de Secours et des Jeunes Filles de paroisse, instructrice dans la Primaire, instructrice dans l'Ecole de Dimanche, et coordinatrice des réunions de la Société de Secours de paroisse. Née à Port-au-Prince, Ouest, Haïti, à Stinvil Michel et Carmélite Rabel Michel.