New Search | Add Profile | Edit Profile | Delete Profile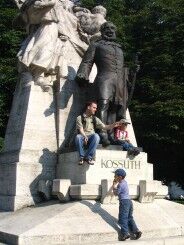 David Sallay
Address not available
Send Email
Comments:
Egy évig laktam Magyarországon, Nyíregyházán, de most 2 hónappal ezelőtt jöttem vissza Amérikába. Az idő, amit töltettem Magyarországon remek volt, és nagyon hiányoznak a Nyíregyházi gyülekezet és a magyar emberek is. Most keresek munkát Utahban, és remélem visszamenni az egyetemre egy év mulva. Mindenesetre, tudom, hogy vissza fogok menni magyarországra tíz éven belül. Minden jót!

A fotóban a Nyíregyházi Kossuth téren vagyok, a szobrán ülve gyermekekkel.

I spent the last year living in Nyiregyhaza, Hungary, but came home just under 2 months ago. The time I spent in Hungary was amazing and I miss the Nyiregyhaza branch and the Hungarian people very much. I'm just looking for work now and hope to go back to school soon. I'm sure I'll be back in Hungary with in the next 10 years though.

The photo is me in Kossuth Square, Nyiregyhaza, sitting on the statue with children.