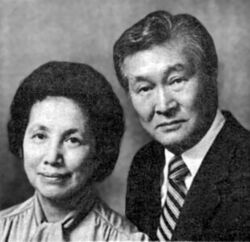 President Shigeki Ushio
Address not available

Email Not Available

Spouse: Momoko
Served: 1980 - 1983
Associated Alumni
Comments:
Saturday, November 30, 2002
LDS Church News

Shigeki "Shake" Ushio, 88, president of the Japan Osaka Mission from 1980-1983, died Nov. 18, 2002, in Salt Lake City. He was assistant director of the Church's Hosting from 1993-1996. He was also a member of the Topaz Commemorative Committee and delivered the dedicatory tribute at the original Topaz, Utah, site where Japanese-Americans were interned during World War II.

---

LDS Church News
Week ending March 8, 1980

Shigeki Ushio, 66, an insurance salesman, is activities committee chairman in the South Cottonwood 7th Ward, Salt Lake South Cottonwood Stake.

He was born in Salt Lake City, to Matajiu F. and Sono Ushio. He married Momoko Tateoka March 6, 1943, and their marriage was later solemnized in the Salt Lake Temple. They are parents of four children.

Pres. Ushio received his bachelor's degree from the University of Utah. He was a farmer and professional photographer before his present employment with the Utah Farm Bureau Insurance Co.

His past positions include YMMIA superintendent's counselor, seventies president, priests quorum adviser, high priests group leader, bishop's counselor and high councilor.

Sister Ushio was born in Salt Lake City, a daughter of Tokizo M. and Natsu Tateoka. She is ward homemaking leader and also served as a Primary teacher, YWMIA counselor, president and stake board member, stake Sunday School board member, and counselor in a ward and stake Relief Society presidency.
LDS QUOTE:
"You are a great army of returned missionaries. Go forward with new zeal and determination, and through your example shine the light of the gospel in this troubled world. This is the Lord's work in which we are engaged. God lives. Jesus is the Christ. We belong to His Church. This is my witness to you in the name of Jesus Christ, amen."