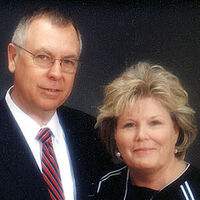 President Jay W. Eckersley
Address not available

Email Not Available

Spouse: Ellen
Served: 2006 - 2009
Associated Alumni
Comments:
Jay William Eckersley, 56, Springfield 5th Ward, Springfield Missouri South Stake; former stake president, counselor in stake presidencies, bishop and stake missionary. Retired Chief Executive Officer, St. John's Health System. Born in Ogden, Utah, to William Eckersley Jr. and Barbara Jean Compton Eckersley. Married Ellen Renae Orrock, five children.

A ward activity committee chairman, Sister Eckersley is a former stake public affairs director, institute and seminary teacher, ward Primary president, and counselor in a ward Relief Society presidency. Born in Ogden, Utah, to Phil William and Bernice Child Orrock.
LDS QUOTE:
"You are a great army of returned missionaries. Go forward with new zeal and determination, and through your example shine the light of the gospel in this troubled world. This is the Lord's work in which we are engaged. God lives. Jesus is the Christ. We belong to His Church. This is my witness to you in the name of Jesus Christ, amen."