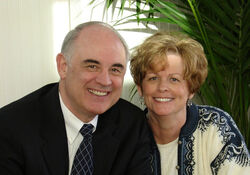 President Erlend Dean Peterson
Address not available

Send Email
Spouse: Colleen
Served: 1987 - 1990
Associated Alumni
Your Occupation: Educator
Comments:
Colleen and I continue to reflect on the years we and our family lived in Norway. We felt especially fortunate to have all six of our children with us. They are now married and they have given us 18 grandchildren.
We continue to treasure the missionaries with whom we served. We thank those who continue to keep contact with us and we invite all of you to please send us your email so we can have contact with you.
In addition we loved the members. Colleen and I have been back to Norway several times and plan to go again this coming May 2009.
I am still employed at BYU and serve as Associate International Vice President. Colleen has expanded her responsibilities from full-time mom to full-time grandmother.