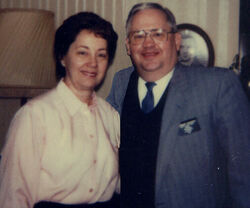 President Richard H. Cracroft
Address not available

Email Not Available

Spouse: Janice
Served: 1986 - 1989
Associated Alumni
Your Occupation: Professor of English, emeritus, BYU
Comments:
Richard H. Cracroft is Nan Osmond Grass Professor in English, emeritus, at BYU, where he was director of the Center for the Study of Christian Values in Literature, editor of Literature and Belief, chair of the English Department, Dean of the College of Humanities, and coordinator of BYU's American Studies program.

He received his B.A. and M.A. degrees in English from the University of Utah, and his Ph.D. in English from the University of Wisconsin-Madison.

He initiated in 1972, with Neal Lambert, BYU's course, "The Literature of the Latter-day Saints," and edited, also with Lambert, A Believing People: The Literature of the Latter-day Saints (1974, 1979)and 22 Young Mormon writers (1975), and six other books.

He has published extensively in Mormon, Western and American literature studies, in, among others, Modern Fiction Studies, The Mark Twain Journal, American Quarterly, Western American Literature, Encyclopedia of Mormonism, Book of Mormon Reference Companion, Utah Historical Quarterly, BYU Studies, The Ensign, The New Era, Dialogue, and Sunstone; his article on Brigham Young and the novel, published in the Mormon History Journal, was named the Best Article in Mormon History for 2001.

He was president of the Association for Mormon Letters, and he was recently named an Honorary Lifetime Member of AML.

He has been an LDS bishop (twice), a stake president (Provo East Stake), and mission president (Switzerland Zürich), MTC branch president. He is currently High Priest Group Leader. He has been married to Janice Alger Cracroft for 47 blissful years; they have three children and seven remarkable grandchildren.