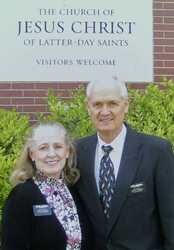 President M. Dean Anderson
Address not available

Send Email
Spouse: Kathryn Ann
Served: 1990 - 1993
Associated Alumni
Your Occupation: Retired from Church 2008
Comments:
Hello to you and your loved ones. It's been about 20 years since our mission mid-point. It's time for a reunion. Elder Steve Jensen has reserved a location in Kaysville, SLC, Utah for July 6, 2012 from 5 pm on for the evening. Hope you can come. We will figure out how to RSVP soon. For now, please track down your companions and mission friends and spread the word. It will be great to see one another this summer!

I am retired from Church employment as of 10/31/2008. Kathryn and I are serving what is called an "inner-city service mission" in SLC, with our son Carlton ((26 this month). We work with newly arrived Nepali refugees and love the Lord's work. I am now 69 (Kathryn is still the 45 she was when we started the mission).

We have seven children:
Crystalyn & David Nilson - 4 children
Annalisa & Brett Freeman - 2 children
Laralee Anderson - US chief flight attendant Sky West airlines
Bradon Anderson - web designer, Sky West
Brynnly & Alan Keete - 2 children
Dayne & Rebecca Anderson – at BYU, expecting this spring
Carlton Anderson - survived brain cancer, lives at home

Please be patient with me on responding to your communications. Like your many responsibilities, the family and mission take time.

I feel as closer to the Lord now as ever. I think about you and rejoice that we could serve on the wall together and I the Lord knows of your service still – He loves us!
LDS QUOTE:
"You are a great army of returned missionaries. Go forward with new zeal and determination, and through your example shine the light of the gospel in this troubled world. This is the Lord's work in which we are engaged. God lives. Jesus is the Christ. We belong to His Church. This is my witness to you in the name of Jesus Christ, amen."