Washington Seattle Mission Alumni
Below is the contact information for the mission office. To write to a missionary currently serving in the mission, please send mail to him or her at this address.

The mission office telephone number is for mission office use only. Individual missionaries can not be contacted at this number.



Mission Home Address:

,
United States

Mailing Address:
10675 NE 20th St
Bellevue, Washington 98004
United States

General Phone: (425) 641-5050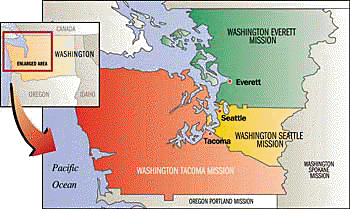 In July 2001 the boundaries of the Washington Seattle Mission were changed and a new mission was created..

This new mission, the Washington Everett mission, will include nearly 34,000 members within the 10 stakes of Bellingham, Bothell, Everett, Kirkland, Lynnwood, Marysville, Mount Vernon, Redmond, Seattle Shoreline and Snohomish.

The realigned Washington Seattle Mission will include roughly 36,000 members in 10 stakes. The new boundaries, which include the Seattle Temple, span from Bellevue south to Puyallup.
LDS QUOTE:
"You are a great army of returned missionaries. Go forward with new zeal and determination, and through your example shine the light of the gospel in this troubled world. This is the Lord's work in which we are engaged. God lives. Jesus is the Christ. We belong to His Church. This is my witness to you in the name of Jesus Christ, amen."