President and Sister Walsh (1972-75)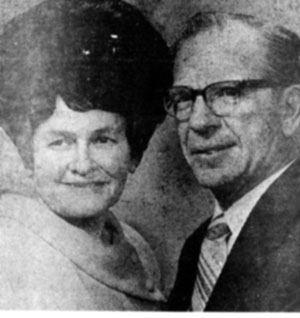 President William M. Walsh and his wife Alice O. Walsh moved into the mission home with 5 of their 11 children. He was the personal welfare administrator for the General Church Welfare Committee for 26 years before his call as mission president. He and his wife were married in the Salt Lake Temple in 1941. He served a mission in Texas and his wife served in the Sweden Mission until war broke out. She was then transferred to the North Central States Mission.
President Walsh was famous for introducing the "little flippers" as a tracting device. They were a piece of standard size typing paper folded up so that one of eight messages could be shown by folding and flipping the page. It took some dexterity and practice to rotate through the folded messages while talking at the door. He also established a missionary chorus called "Ca No Mi". It toured the mission giving performances at churches and at the California State Fair. In 1973 the church made major changes to the missionary discussions by introducing flip charts which replaced flannel boards that had been used for many years.
After his release he returned to work for the church. They still live in the Salt Lake City area and are enjoying being grandparents and great-grandparents.
Pres and Sister Walsh - Oct 3rd 2003
President William M. Walsh passed away Nov. 22, 2007