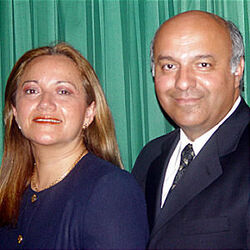 Presidente Jorge F. Zeballos
Dirección no encontrada

Email no encontrado

Esposo(a): Carmen Gloria
Sirvió: 2006 - 2008
Ex misioneros asociados
Comentarios:
Saturday, March 25, 2006
LDS Church News

Jorge Fernando Zeballos, 50, Chile Concepcion South Mission; Angamos Ward, Antofagasta Chile Stake; former Area Seventy, regional representative, stake president, bishop and missionary in the Chile Concepcion Mission. Manager of corporate affairs, BHPBilliton Escondida. Born in Ovalle, Chile, to Alberto and Ines Ortiz de Zeballos. Married Carmen Gloria Valenzuela, five children.
A Primary teacher, Sister Zeballos is a former ward Relief Society and Primary president and Relief Society teacher. Born in Rancagua, Chile, to Victor Vicente and Maria Cristina Barrera de Valenzu.
Modificado: 2006-03-04
Última entrada:
| | |
| --- | --- |
| | |
| | | | |
| --- | --- | --- | --- |
| | Copyright © 2010 LDS Mission Networksm · mission.net / ldsmissions.net · All rights reserved. | | |