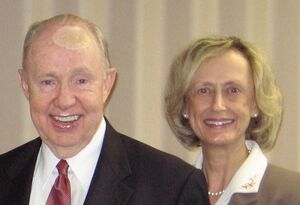 President David R Stone
Address not available

Send Email
Spouse: Rosalie
Served: 1996 - 1999
Associated Alumni
Your Occupation: President, Australia Area
Comments:
After our mission release in 1999, I was called to the Second Quorum of the Seventy for a term of six years, and assigned to the Area Presidency in Northern Mexico. We lived in Monterrey until I was transferred to Peru in August, 2000. We spent three years in Lima, where I served as a counselor, and then as President of the South America Southwest Area (Peru and Bolivia).
After seven wonderful years of Church service in Latin America, I was assigned to the North America Northeast Area Presidency in August, 2003, and we lived in Sandy, Utah, for a year.
In August 2004 I was reassigned to the Philippines Area Presidency, and we enjoyed living in Manila and associating with the Saints in those beautiful islands.
The First Presidency recently extended my call to the Second Quorum for an additional year, and we are now living in Sydney, where I am serving as President of the Australia Area.
Sister Stone and I particularly enjoy touring missions and teaching at zone conferences, because those activities remind us of the unforgettable years we spent with our own missionaries in the Dominican Republic. There are eight missions in this area, so we will have frequent reminders! I often share experiences from our mission in the D.R. with the missionaries and members in the stakes and missions I visit.
My leukemia is still in the "indolent" stage, and my skin cancer problem of 2002 has been totally cured.
Our six children and four grandchildren are scattered around the west, but we had a wonderful reunion with all of them for Christmas 2005.
My challenge to a game of golf still stands, in case any of you are in Sydney on vacation!