New Search | Add Profile | Edit Profile | Delete Profile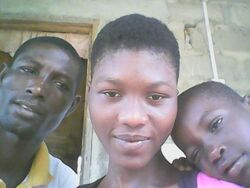 RICHARD ACKOM-HOOPER
Address not available
Send Email
Comments:
FATHER OF FOUR -REGIN A. HOOPER, LAWRENCE A. HOOPER, SALOMEY A.-HOOPER & GLORIA A.HOOPER. GIFTY BAIDOO HOOPER IS MY WIFE.
CHURCH CALLINGS: WARD FAMILY HISTORY CONSULTANT, CHURCH HISTORY, 1ST COUNCILOR IN BISHOPRIC
TESTIMONY: I KNOW THE LORD JESUS CHRIST HAS RESTORED HIS CHURCH AGAIN ON EARTH THROU. PROPHET JS
PROPHET THOMAS S. MONSON, THE 12, THE 70'S & ALL THE PRESIDING OFFICERS OF THE CHURCH ARE ORDAINED OF HIM WITH THE APOSTOLIC KEYS TO MINISTER & ADMINISTER IN HIS NAME.