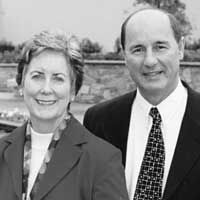 President John A. Grinceri
Address not available

Send Email
Spouse: Vicki
Served: 1975 - 1978
Associated Alumni
Comments:
Saturday, September 11, 2004
LDS Church News

John Anthony Grinceri, 58, Duncraig Ward, Perth Australia Warwick Stake; called as president of the Perth Australia Temple; succeeding President Donald Wilfred Cummings. President Grinceri's wife, Vicki Dorothea Thornber Grinceri, will serve as temple matron. President Grinceri is a former Area Authority Seventy, mission president, counselor in a stake presidency, multi-stake public affairs director and bishop. He is semi-retired as managing director of Seymour Holding. He was born in Perth, Australia, to Antonio and Rosa Casella Grinceri.
Sister Grinceri is a former stake Relief Society president, ward Relief Society, Young Women and Primary president and seminary teacher. She was born in Perth, Australia, to Philip and Valerie Williams Thornber.

---

Saturday, October 4, 2003
LDS Church News

Released from part-time service as Area Authority Seventies were: Henry F. Acebedo, Blair S. Bennett, Craig A. Bullock, Raimondo Castellani, Christopher N. Chukwurah, Lawrence R. Fuller, Ruben G. Gapiz, Harvey L. Gardner, Francisco G. Gimenez, John A. Grinceri, Shih An Liang, Emmanuel O. Opare, Sr., Alain A. Petion, Claudio D. Signorelli, R. Lloyd Smith, Tomas Valdes and Chung Hei (Patrick) Wong.


---

Saturday, October 11, 1997
LDS Church News

Sustained as Area Authority Seventies

(Assigned to the Third Quorum of the Seventy)

Elder John A. Grinceri, Perth Australia


---

I was born and raised in Perth, Western Australia. I joined the Church along with my family when I was 14 years of age. I received my mission call to Switzerland, but when I arrived in February 1966 I was advised that Italy was a part of the Swiss Mission, and it would be my field of labor. The Italian Mission was organised six months after my arrival, with John Duns Jr. as president. I was also present on Mount Brigham when Ezra Taft Benson rededicated Italy. I had a wonderful mission and had many great experiences.

In 1975 at the age of 29 I was called back to Italy to serve as the president of the newly created Italy Padova Mission, my wife Vicki was just 26. When we arrived we had to start almost from scratch as there was no mission home, no mission office, not even a phone or a desk. Nevertheless, with the help of some wonderful missionaries we soon began to see the fruits of our labors and the Italy Padova Mission became the highest baptising mission in Europe. President Spencer W Kimball visited the mission in 1977, and a number of chapels were built during this period. Our fourth child Todd was also born.

After returning home to Australia 2 more sons were born making it a total of 6 sons. I taught high school for a few years before turning to business. I have been blessed to serve in a number of church callings including that of area authority seventy. I currently serve as the multi stake director of Public affairs. Our six sons have all served missions, the first five in Italy, and the youngest in New Zealand. We are now grandparents several times over. We continue to have fond memories of the missionaries and the members with whom we served, and our love for the Savior and His gospel is still as strong as ever. May the Lord bless you all.
LDS QUOTE:
"You are a great army of returned missionaries. Go forward with new zeal and determination, and through your example shine the light of the gospel in this troubled world. This is the Lord's work in which we are engaged. God lives. Jesus is the Christ. We belong to His Church. This is my witness to you in the name of Jesus Christ, amen."