New Search | Add Profile | Edit Profile | Delete Profile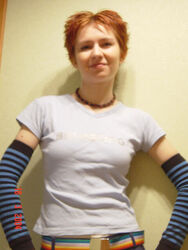 Natalya A. Pashchevskaya
Address not available
Send Email
Comments:
Hello to everyone who knows me! I have a new calling as a Sunday School teacher, and I love it! Other than that, nothing really is new. I'm in my second year of university, majoring in International relations. I don't really hear much from people who served in Volgograd, I would like to know more about you guys! So e-mail me ASAP. I love you all.
P.S. My birthday is October 25 and I WANT E-CARDS!
LDS QUOTE:
"You are a great army of returned missionaries. Go forward with new zeal and determination, and through your example shine the light of the gospel in this troubled world. This is the Lord's work in which we are engaged. God lives. Jesus is the Christ. We belong to His Church. This is my witness to you in the name of Jesus Christ, amen."