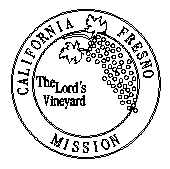 This site is dedicated to all the missionaries who served in the California Fresno Mission of The Church of Jesus Christ of Latter-day Saints. Please feel free to browse the Alumni Database, check out the Recent News or post to the Message Board. If you are not a returned missionary (from this mission) but still would like to contribute, post a message to the Guest Book.

Need to create a Username and Password? Add Profile.

Be sure to let us know if we need to correct or add something. Suggestions and Comments are always welcome.

*News Item
Dear Missionaries,
Sister Friden and I learned of Elder Patrick Dilbeck's passing this afternoon. He passed away this morning, Aug. 28th, after his room mates called the paramedics.
We don't know much of the details at this point and will let you know of the funeral arrangements when we receive word. We are in contact with his mother.
Love, President and Sister Friden
More News will be posted as available.