This page is designed to help new missionaries learn what to expect on their missions to the Czech Republic / Slovakia.
Something else you'd like to see on this page? Tell me.
---
What To Bring
As far as general clothing goes, you can refer to the list sent with your mission call, or click here to view the clothing list online.
There are a few other things you may want to be sure to have with you. First, you will want to bring pictures, preferably wallet-sized, to show members and investigators. Don't bring so many that it's a distraction to you. Bring pictures of your family, your house, and maybe some pictures of your home town.
A suggestion I've heard is to bring pictures of the prophet, temples, apostles, etc. These can make great gifts for investigators, members, or other missionaries. Just a small note on the back can really personalize it. Best of all, they're flat so they fit easily in a suitcase.
Coats - (Sorry Sisters, I only can write to Elders on this one. I was never one of you) You will want to make sure you have a nice heavy coat. It gets very cold in the winter (for example, my first winter it was -20F for 2 weeks -- don't worry it's not always that bad) and you'll want to stay warm and dry. I wouldn't recommend a parka so to speak, but a thin trenchcoat usually won't do. Just think insulation.
Boots/Shoes - (again, sorry Sisters) I'll give you the advice my mission president gave to us. Bring two types of shoes. Bring a heavier pair of waterproof shoes (i.e., Docs) that can be used to tramp through mud and snow as you walk around in the winter. Keep in mind your a missionary, though. No ankle-high boots or things like that. But bring nicer shoes as well for when the weather is better, for church, or for zone conferences. And make sure they're comfortable...you're going to do a lot of walking.
Nylons - (finally one just for the Sisters) A recommendation from Sister Duvall (currently serving) is don't bring white nylons. Women in Europe don't wear them and you'll look funny if you do. Also (not really related to nylons), don't bring an iron. Most apartments have them. Usually from missionaries who have brought them and then left them behind after their arms fall off from carrying them.
For more information regarding what Sisters should bring, click here for information from an alumna of the mission.
More to come...
Back to the top
---
Things to Know
Lesson #1 - The people
What are the people like? When I was in the MTC, we used to wonder the same thing – how do the people differ from us in the states? Well, they are just people. They laugh. They cry. They bleed (although they try not to do that too often). The main difference is experience. Most of them have had experiences that most of us can't even begin to comprehend – mainly that of Communism. Some people were very embittered by the experience and have become very suspicious of everyone and everything (especially foreign guys walking around in white shirts, suits, and name tags). Others have been humbled by the experience and have turned to God for support. (Alma 62:41) It will be interesting to see how the rising generation grows up without the "ideals" of Communism forced upon them.

However, with all that being said, after living there for a while, people begin to have a very "Czech" or "Slovak" or at least "European" way of looking – either in appearance or dress. You can't put you're finger on it, but after a while you seem to just know who is native and who's not.

Lesson #2 - Heart of Europe
One thing to know is that the geographical center of Europe is in the mission. At Svätojanský kostol (St. John's Cathedral) near the village of Kamnicka bana, there is a boulder and a sign designating the center of Europe. This village is in the vicinity of Banská Bystrica.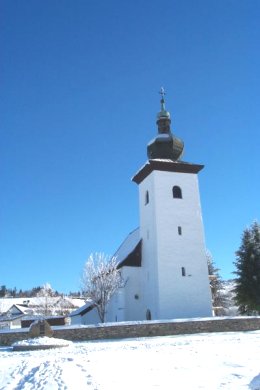 St. John's Cathedral
travel.box.sk
Center of Europe

travel.box.sk

Lesson #3 - Food!


If there was one thing to love (which there was), it was the food. In general, the food is pretty heavy - meats, potatoes, cabbage - but it's delicious. Fresh fruits and vegetables are easy to find (once you learn the right names for them :), so your mothers can stop worrying.
Here are some of the foods I ran into.
Vepřo-Knedlo-Zeli

A favorite meal among natives and missionaries alike. Roast pork, dumplings, and saurkraut (yes, you can get used to it).

Bryndzové Halušky

My personal favorite - and found only in Slovakia. We have no equivalent to it in the states (Škoda!). It is a potato dumpling meal (the dumplings are strained through large holes into boiling water) with sheep cheese (bryndza) on it. Often, it's topped with bacon bits and grease.

Smažený Syr (Slovak: Vypražený Syr)

Fried cheese. Pretty self-explanatory – it's cheese that's breaded and fried. Often eaten with tatarská omačka (tarter sauce). One of my companions and I would judge the quality of a restaurant by the quality of their syr.

Rohlik (Slovak: Rožok)

A missionary favorite. A soft breadstick about the size of a straightened croissant. An easy lunch included about 3 rohliky and a yogurt. Dip in the yogurt, bite, repeat.

Kapr (Slovak: Kapor)

Carp. Thought of by most Americans as a "trash fish," carp are specially bread there to be eaten at Christmas. No Christmas feast is complete without one.

Gulaš

There are several types of goulash to be found throughout the mission. Many recipes have been borrowed or adapted from their neighbors (this goes for more than just goulash).

Čaj

Tea. There are also many different types of tea and people will generally offer you some if they invite you into their home. Ovocný is ok for missionaries/members. If the name of the tea has a color attached to the beginning (ie, černý, zelený, atď), then you probably shouldn't be drinking it.

Sendvič

You will also more than likely be offered open-faced sandwiches. These could have any number of things on them: tomatoes, bell peppers, eggs, cheese. Usually with butter to make everything stick to the bread.
Lesson #4 -- The bath
If you will turn your attention to the picture at your left, you will see what I dealt with for 2 years. Whether or not all the baths in the Czech Republic and Slovakia are like this, I don't know. All I know is that it was like this in all the apartments that I was ever in. You sit down and rinse yourself off (normally without clothes) and then hold the hose between your toes to shampoo your head. Like I said, this was my experience at least.

Lesson #5 - the Washing Machine


If you look in the picture again in the lower left-hand corner, you will see our washing machine. Only once did I have a washing machine on my mission that worked differently than this one. There are better washers, but the apartments I was in didn't have them. We had to put the washer in the bathtub and fill it up and drain it with each load. I don't think that the clothes actually got clean. I think that the machine just spun them around really fast and tried to scare the dirt off. Oh, unless you're rich and can afford a dryer, you'll probably just hang your clothes up to dry. Back to the top
---
Quick Facts
Czech Republic
Slovakia
Name
Česká republika
Slovenská republika
Area
78,864 sq km (30,450 sq miles)
48,845 sq km (18,859 sq miles)
Bordering countries
Austria, Germany, Poland, Slovakia
Austria, Czech Republic, Poland, Ukraine, Hungary
Capital
Praha (Prague)
1,214,000 inhabitants
Bratislava
461,459 inhabitants
Government type
Parliamentary democracy
Parliamentary democracy
President
Václav Klaus
Rudolf Schuster
Population
10,272,179 people
5,268,935 people
Language
Czech
Slovak
Nationalities
Czech (94%), Slovak (2%), Romany/Gypsy (2-3%), Polish (0.6%), German (0.5%)
Source: bohemica.com
Slovak (85.6%), Hungarian (10.8%), Romany (1.8%), Czech (1.2%), Ruthenian (0.3%), Ukrainian (0.3%), German (0.1%), Polish (0.1%),Other (0.2%)
Source: slovakia.org
Religion
atheist (40%), Roman Catholic (40%), Protestant (5%), other (16%)
Source: bohemica.com
Roman-Catholic (60.3%), Greek-Catholic (3.4%), Protestant (6.2%), Reformist (1.6%), Orthodox (0.6%), Without any confession (9.7%),No data (18.2%)
Source: slovakia.org
Currency
Czech Crown (Kč)
(app. US$1 = 30 Kč)
Slovak Crown (Sk)
(app. US$1 = 34.7 Sk)
Back to the top
---