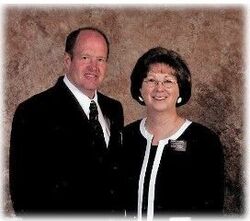 President Keith Birch Caldwell, Jr.
Address not available

Send Email
Spouse: Rahnena
Served: 2004 - 2007
Associated Alumni
Comments:
Keith Birch Caldwell Jr., 52; Ecuador Guayaquil South Mission; Glines 4th Ward, Vernal Utah Glines Stake; bishop; former counselor in a stake presidency, stake executive secretary, ward Young Men president and missionary in the Andes Peru Mission. President, owner and manager of Newsprint Inc. Born in Santa Barbara, Calif., to Keith Birch and Lila Alice Collier Caldwell. Married Rahnena Massey, six children.
She is a former counselor in stake Relief Society presidencies, stake Young Women camp director, ward Young Women and Primary president and counselor in a ward Relief Society presidency. Born in Monterrey, Calif., to Valda Dez and Donna Moon Massey.

Keith Birch Caldwell Jr., 52; Misión Ecuador Guayaquil Sur; Barrio Glines 4th, Estaca Vernal Utah Glines; Fue Obispo, Consejero en la presidencia de estaca, Secretario de estaca, presidente de los hombres jovenes de su barrio, y servió en la misión Andes Peru. Presidente, dueño y operador de Newsprint Inc. Nació en Santa Barbara, California en los estados unidos,hijo de Keith Birch y Lila Alice Collier Caldwell. Se Casó con Rahnena Massey, tienen seis hijos.
Ella fue una consejera de la presidencia de la sociedad de socorro de su estaca, tambien ella sirvió como directora de las mujeres jovenes de su estaca, barrio y presidente de la primaria. Ella sirvió como consejera en la sociadad de socorro de su barrio. Nació en Monterrey, California en los estados unidos. Hija de Valda Dez y Donna Moon Massey.