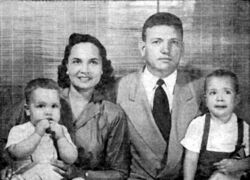 President Paul C. Andrus
Address not available

Email Not Available

Spouse: Fran
Served: 1955 - 1962
Associated Alumni
Comments:
(Submitted by President Andrus August 15, 2000)

President Paul C. Andrus was born in Salt Lake City, Utah, on October 5, 1924 to George and LaVerna Andrus. Raised in Magna, Utah, and graduated from Cyprus High School in Magna in 1942. Served as a pilot in the United States Army Air Corp for 3 ½ years from 1943 to 1946 and flew combat missions against the Japanese army in the Philippines in 1945. Was stationed in Okinawa preparing to invade the Japanese mainland when the war ended in September 1945. Served in the occupation army in Japan from November 1945 to August 1956 and was stationed in Osaka and Fukuoka.

Served as a missionary in the Japanese Mission from February 1948 to February 1951. En route to Japan labored in Hawaii in the Central Pacific Mission from February 1948 to June 1948 and was one of the group of first five missionaries to arrive back in Japan to reopen missionary work in June of 1948.

Married Frances Parker in the Hawaii Temple in 1952. Served as President of the Northern Far East Mission with headquarters in Tokyo from 1955 to 1962. His wife, Frances, who had previously served as a missionary in Japan from 1949 to 1951, was called as a missionary to serve with President Andrus, and they took with them to Japan their two small children, Vaun 28 months old and Chuck 16 months old. Three more children were born to President and Sister Andrus while in Japan: LaVerna, Jay, and Eva. All five children subsequently filled missions in Japan: Vaun in The Sendai and Sapporo Missions, Chuck in the Nagoya Mission, LaVerna in the Tokyo South Mission. Jay in the Fukuoka Mission and Eva in the Okayama Mission.

From 1962 till the present was self-employed in private business in Hawaii. During these years served as High Councilman, Counselor in the Stake Presidency, Regional Representative for five years with assignments in Japan, Korea, Taiwan, The Philippines, Hong Kong and Hawaii, and as an Ordinance Worker in the Hawaii Temple for 25 years and as a Sealer in the Hawaii Temple for 20 years.



Stories About Fukuoka by Paul Andrus.

When World War II ended in September of 1945, I was on Okinawa as a pilot in the US Army Air Corps preparing to invade the Japanese mainland. In November, 1945, I was transferred to Itami Air Base in Osaka which is now the Osaka International Airport. In January, 1946, I was transferred to Fukuoka where we lived in Japanese factory worker dormitories and flew surveillance missions keeping track of ships on the Sea of Japan. We were flying from Ashiya Air Base north of Fukuoka because the Itazuke Air Base, which is now the Fukuoka International Airport was just beginning to get under construction. I was stationed in Fukuoka for about seven months and was very favorably impressed with the city and the people. It was here that I first began to study the Japanese language. When I left Fukuoka in July of 1946 to return to the USA, I took with me these favorable impressions and pleasant memories, although I had no idea at that time that I would be returning to Japan as a missionary later in 1948.

It was my privilege to be one of the first five missionaries to reopen the work in Japan and we arrived in Yokohama aboard the USS General Meiggs on June 26, 1948. Although I served as a missionary in Japan until February of 1948, I was never assigned to labor in Fukuoka. I was however very much interested when Elder Ted Price, Elder Murray Nichols, and Elder Swenson opened the Work in Fukuoka in November of 1950.

When I arrived back in Japan as Mission President on December 9, 1955. I learned that the Fukuoka Branch had been closed. President Robertson had already sailed for home before we arrived to take his place, so I did not know why the Fukuoka Branch had been closed, but I felt very strongly that it should be reopened. I can find no record in my journal of the date it was reopened but my journal entry for January 6, 1956, states I flew to Fukuoka that day and met with Elder James Jackson Jones, Jr. and Elder Richard Austin who were already there. The Fukuoka Branch grew in membership and strength over the years and Sister Andrus and I have very pleasant memories of our visits to Fukuoka to meet with the missionaries and members.

We especially remember Brother Yoshizawa who has always been a pillar of strength there.

What a great blessing it is to now have a beautiful temple in Fukuoka! We rejoice with all the members and missionaries whose combined efforts made this possible!

LDS Church News
Week Ending November 12, 1955

Paul Charles Andrus of Kaneohe, Oahu, T.H., has been named as the new president of the Northern Far East Mission, according to an announcement from the First Presidncy of the Church this week.

He will succeed President Hilton A. Robertson, who has presided for several years over the Japanese Mission and more recently has served as president of the Northern portion of that mission, effected by a division of the larger unit last summer with President Joseph Fielding Smith, of the Council of the Twelve, officiating.

Native Salt Laker

The new mission leader is presently a president of the 260th Quorum of Seventy in the Honolulu Stake and is a former missionary to Japan.

He was born Oct. 5, 1924 in Salt Lake City, a son of George E. and La Verna Terry (both deceased). He married Frances Parker of Honolulu, July 5, 1952 in the Hawaiian Temple and they are the parents of two sons, Vaun Blair, 2, and Charles Parker, 1.

His formal education was acquired at the Webster Elementary School, and Cyprus High School, Magna, Utah and at the Brigham Young University and the University of Utah.

From 1943 to 1946 he was a member of the Army Air Force, attaining the grade of first lieutenant. While in the service he was LDS Servicemen's group leader and since being separated from the Army has served as a seminary teacher, and is now secretary of the Aaronic Priesthood under 21 and teacher of the investigators class in Sunday School in the Kaneohe Ward, Honolulu Stake.

He is now engaged in the insurance and real estate business in Honolulu.

Mrs. Andrus

Mrs. Andrus is a student of the Galusha School of Business and has worked as a stenographer and typist. She also served as a missionary to the Japanese Mission in 1949-51. She has been successively, genealogy secretary, Primary teacher, Sunday School secretary, Primary president, first counselor in the MIA presidency, Junior Sunday School coordinator and Bee Keeper in the Kalihi Ward, Oahu Stake.

She was born in Honolulu and is a daughter of Arthur K. and Eva Vieira Parker.

© 2001 Deseret News Publishing Co.



View additional information on President Ivie by clicking here.

View additional information on President Stimpson by clicking here.

View additional information on President Ivins by clicking here.

View additional information on President Thomas by clicking here.

View additional information on President Taylor by clicking here.

View additional information on President Ensign by clicking here.

View additional information on President Grant by clicking here.