ABOUT THE CANADA EDMONTON MISSION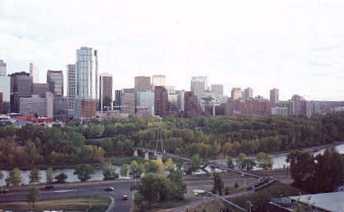 Edmonton, Canada


The Canada Edmonton Mission covers the northern part of the province of Alberta, Northeast British Columbia and the Northwest Territories. There are six stakes and one independent branch. The stakes include one in Red Deer, four in Edmonton ie. Bonnie Doon Stake, Millwood Stake, the Riverbend Stake and Edmonton North Stake, and one in Grande Prairie. The independent branch is located in Yellowknife, Northwest Territories and is the largest branch in the Church covering all of the Northwest Territories and Nunavut, which is a newly formed territory comprising the eastern part of the old Northwest Territories.

The Grande Prairie Stake is larger than the state of Utah with thirteen wards and branches. Yellowknife has approximately 100 members with 50 living close enough to attend Church. The others are contacted by telephone or radio and are scattered throughout the remainder of this vast territory. There are missionaries serving in Yellowknife.

The geography of the mission is varied from the beautiful Canadian Rockies, to the rolling prairie to the very flat land in the eastern part of the mission. Banff and Jasper National Parks are located in the mission. The climate varies with the average July temperature being 59 degrees F and the average January temperature being 5 degrees F. It is not unusual to have temperatures of 30 degrees below zero F. The average precipitation is 18" but this is also varies widely. Eighty percent of the people live in urban areas with the remaining 20% in rural areas. The provincial capital is Edmonton. The location of the mission home is in nearby Sherwood Park, just east of Edmonton. Alberta is two/thirds again as large as California with a total population of 2,962,664 in Sept, 2001. The only towns/cities over 10,000 people in the mission boundaries are Camrose, Cold Lake, Fort McMurray, Fort Saskatchewan, Grande Prairie, Leduc, Lloydminster, Spruce Grove, and Wetaskawin.

The missionary force has a compliment of about 120 missionaries, consisting of Elders, Sisters and couples. Many missionaries labor in the major population center of Edmonton while others are located in medium to small towns throughout the province. The Church has many beautiful chapels in Alberta, even in the smaller towns. The Edmonton Temple opened to patrons in January, 2000. The temple is located on the Riverbend Stake site and is in view from the busy Whitemud Freeway.

The cities and towns are attractive and well maintained. There are many lakes and streams. The people are generally courteous and friendly. The members are well schooled in the gospel and supportive of missionary work. Many of the baptisms result from member referrals. During the first year of the Canada Edmonton Mission, all three members of the First Presidency, President Gordon B. Hinckley, President Thomas Monson and President James Faust visited the mission with President Gordon B. Hinckley announcing the construction of the second temple in Alberta.