Missionary Clothing Needs
Being Prepared
Along with their mission call, missionaries receive a packet of information about their mission. Included in this packet is a "clothing needs" list describing what items to bring. These lists vary depending on the climate and conditions of each mission, but each contains those items most regularly used in the field.
While each missionary's experience is different (e.g. some items, like handkerchiefs, may be used by one missionary and discarded by another), the missionary dress code is essentially the same for each missionary.
Luggage Specifications
Missionaries are asked to follow these guidelines when selecting their three (3) luggage pieces:
Two pieces checked, one carry-on.

1st checked piece no larger than 62 dimensional inches, and no heavier than 70 lb.
2nd checked piece no larger than 55 dimensional inches and no heavier than 70 lb.

Carry-on piece no larger than 45 dimensional inches.
To calculate dimensional inches, add the height, width, and depth of the suitcase.
No other general restrictions are given; however, the missionary may receive additional instructions about his/her luggage upon receipt of the call.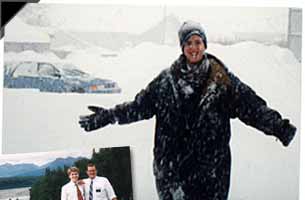 Diagram showing how to calculate dimensional inches with luggage.
Note: The following lists are representative of the sorts of items The Church of Jesus Christ of Latter-day Saints asks missionaries to bring. Specific amounts and instructions will vary by mission. The LDS Mission Network is not responsible for purchasing decisions made on the basis of the lists below.
Elders' Clothing Needs, etc.
Hot
Warm
Cold
Item
10-12 short
3-4 long
7-8 short
7-8 long
3-4 short

White shirts, wash and wear; not easily wrinkled; business-like style

1
1-2
2
Suit(s), traditional style and cut, conservative, dark colors; no sport coats. No baggy or pegged pants. Extreme or faddish styles are inappropriate. A suit coat is required while at the MTC and while traveling to and from the mission field; the extent to which you wear a suit coat in the field will be determined by your mission president.
Belts, black or dark brown, with conservative buckles
5-6
5-6
5-6
Pair of dress slacks; machine washable; dark, single color with a conservative cut; no extreme or faddish styles; no tan or light colored; no casual fabrics such as denim or cotton twill or other fabrics that wrinkle easily; no baggy or pegged pants.
5-6
5-6
5-6
Ties, conservative in color, width and design. No pictures or bright colors, no western string ties or extremely narrow ties. In hot climates, no silk ties.
8-10
8-10
8-10
Pairs of socks, solid, dark colored to match clothing
2
2
2
Pairs of strong, sturdy, thick-soled shoes or low cut boots, conservative, comfortable, oxford style, black, dark brown, or cordovan; no tall boots, suede, canvas, or fad shoes; light-colored stitching and laces must be dyed or colored
8-10
8-10
8-10
Pairs of garments
each
each
each
Pajamas, robe, and slippers, as needed
8-10
8-10
8-10
Handkerchiefs
0
0
1
Pair of Sorel®-type winter boots, waterproof
0
1
1
Dark raincoat, lightweight plastic or nylon plus rubber overshoes or plastic shoe covers
0
1
2-3
Sweater(s), v-neck, solid dark color to match suit
0
0
1
Set of cold-weather accessories: gloves, scarf, ear-muffs, winter hat, thermals, and overshoes or boots
0
0
1
Dark heavy winter overcoat with a zip-out liner
1
1
1
Umbrella
1
1
1
Pair of thongs/flip-flops/shower shoes
1
1
1
Set of personal toiletries and shaving equipment, as needed
1
1
1
Set of baptismal clothing
1
1
1
Set of clothing for work and special preparation-day activities; pants must be full-length
1
1
1
Set of gym clothes; shorts, T-shirts, supportive undergarments, athletic shoes/socks.
each
each
each
Small first-aid kit, small sewing kit, wind-up or battery alarm clock, and laundry bag
2
2
2
Towels, washcloths, and hand towels.
0
1-2
1-2
Blankets
1
2
2
Twin-size flat bed sheets with 2 pillowcases
1
1
1
Backpack; church-approved - purchase at the MTC
Money
Sisters' Clothing Needs, etc.
Hot
Warm
Cold
Item
4-5
4-5
4-5
Properly fitted coordinated outfits of modest design: blouses, skirts, dresses, jackets, vests, jumpers, suits. Must be mid-calf length. No attire that is tight-fitting, baggy, oversized or faddish; no sundresses, wrap-around skirts, peasant-type skirts, t-shirts, sweatshirts, polo-shirts, golf shirts, fabrics that are unpressed or wrinkled, denims, or leathers.
12
12
12
Pairs of nylons or knee-highs. No patterned hose.
2-3
2-3
2-3
Pairs of shoes that are conservative and comfortable. No suede, sporty or fad shoes, or sandals.
1
1
1
Pair of dress shoes for church meetings, conservative style and color.
8-10
8-10
8-10
Pairs of garments
8-10
8-10
8-10
Handkerchiefs
1
1
1
Personal toiletries and underclothing that is both modest and durable. Bras should be either white or cream-colored. Slips should match the length of your dresses; makeup should be conservative and not draw undue attention to itself; multiple earrings are inappropriate.
0
0
1
Dark winter coat
0
0
1
Pair of winter boots which provide both comfort and warmth
0
0
1
Set of cold-weather accessories: gloves, scarf, ear-muffs, winter hat, thermals, and overshoes or boots
0
1
1
Dark raincoat, lightweight plastic or nylon with warm, zip-out lining, plus rubber overshoes or plastic shoe covers
1
1
0
Waterproof poncho - clear, brown, or black.
0
1-2
2-3
Sweater(s)
1
1
1
Umbrella
1
1
1
Pair of thongs/flip-flops/shower shoes
1
1
1
Set of clothing for work and special preparation-day activities; pants must be full-length
1
1
1
Set of gym clothes; jogging suit, athletic shoes/socks.
each
each
each
Small first-aid kit, small sewing kit, wind-up or battery alarm clock, and laundry bag
0
1-2
1-2
Blankets
1
1
1
Set of twin-size flat bed sheets with 2 pillow cases
1
1
1
Backpack; church-approved - purchase at the MTC
Money