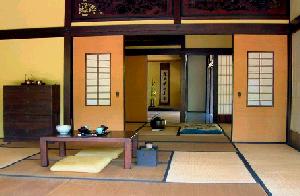 Japanese houses are very different in construction and design from the rest of the world. There are many reasons for this difference, such as frequent earthquakes, an abundance of wood and a high water table. Japanese homes are built so they are flexibile and will not fracture or break in an earthquake. Most homes are made with wood because it is readily available. And the homes are built off the ground. Most houses do not have central heating because of small amounts of natural fuel. There are other differences due to cultural conditions.
Traditional Japanese homes have an entry way or porch called the genkan. All shoes are kept in the genkan, usually pointing away from the house. No shoes are worn in the rest of the home.

Traditinal Japanese homes have floors covered with straw mats, known as tatami. The hallways, kitchen, bathroom areas usually have wood floors. It's o-k to wear slippers through the house, but not on tatami mats.

You won't be tucking yourself in at night into a king size bed! You'll be sleeping on the floor in a soft mattress called a futon. During the day the futon is rolled up and stored in a closet. It's not appropriate to leave the futon unrolled during the day. The same room you sleep in a night, may be used during the day for other purposes.

The Japanese sit on cushions called zabutons. You will seldom if rarely see chairs in a traditional Japanese home. The tables are low and furniture is limited to a few items.

Doors in Japan homes are not solid wood. They are wooden frames with rice paper stretched across for privacy. Doors are called shoji and slide on runners. It is not appropriate to step on a door runner when entering a room.

When visiting a Japanese home, you are likely to see a special alcove, (tokonoma) where a flower arrangement and scroll painting are hung.

If you have to use a toilet, be prepared to squat. The Japanese do not use western style sit down toilets, but prefer the sanitary squat kind. Some Japanese homes have a bathtub, but many do not and simply use the convenience of local public baths, o-furoya. There is more on bathing by clicking on the link at the bottom of this page.

We mentioned there is no central heating, but more likely to be heated in the winter with a sekiyu (portable kerosene) stove. And many homes have kotatsu tables with small heaters beneath.