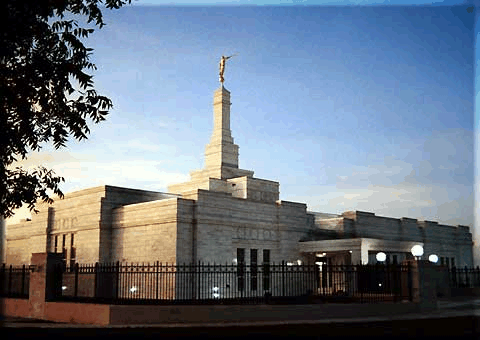 Ground breaking and Site Dedication: 3 July 1999 by Rex D. Pinegar
The Oklahoma City Oklahoma Temple serves members from 13 stakes in Oklahoma, Arkansas, Kansas, and Missouri.

During the groundbreaking ceremony for the Oklahoma City Oklahoma Temple, Elder Rex D. Pinegar of the Seventy and president of the North America Southwest Area declared that turning the ceremonial shovelful of soil during groundbreaking services is symbolic of "turning our lives over to Christ and keeping His commandments." He also recognized the role that having a temple in an area plays in aiding members to develop their faith and build strong families. Additionally, the temple's presence will help the youth of the temple district to see their future clearly and understand what the Lord expects of them.

During his remarks,Elder Pinegar also referred to the deadly tornado which struck Oklahoma City May 3. After the tornado, he toured the devastated areas and saw little standing but the people, which manifested their faith. He mentioned the pure motivations of Church members who reached out to help others simply because they wanted to help.

Also speaking during the groundbreaking services was Elder J. Michael Moeller, an Area Authority Seventy. Elder Moeller spoke of the tragedies that have occurred in Oklahoma City in the last few years including the federal building bombing in April 1995. It will be a great blessing to have a temple in this area, he added. In addition, he explained how Isaiah opened his writings by talking about temples and that Daniel spoke of a stone cut out of the mountain without hands that would fill the whole earth. This temple is part of that stone, he said (Church News, 10 July 1999).