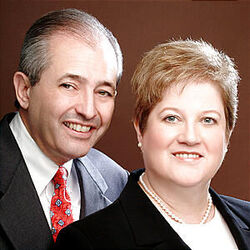 President Michael J. Bertasso
Address not available

Email Not Available

Spouse: Kathleen
Served: 2005 - 2008
Associated Alumni
Your Occupation: President of Heinz Asia Pacific
Comments:
From LDS Church News 2/12/2005, printed on page Z12:

Michael Jon Bertasso, 55; Singapore 1st Ward, Singapore Singapore Stake; CES supervisor and high councilor; former temple ordinance worker, counselor in a mission presidency, bishop, elders quorum president and missionary in the Brazil North Mission. President of Heinz Asia Pacific. Born in Caldwell, Idaho, to Robert Fredrick Sr. and Irene Mary Rinker Bertasso. Married Kathleen Ursenbach, seven children.
The stake Relief Society president, Sister Bertasso is a former temple ordinance worker, stake and ward Young Women president, stake Young Women camp director and ward Relief Society president. Born in Murray, Utah, to Wayne Octave and Bernice Ohlin Ursenbach.

Photo courtesy Deseret Morning News.
Modified: 2005-03-16
Last Login: