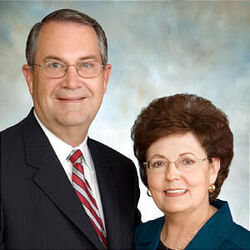 President Jeffry L. Cooley
Address not available

Email Not Available

Served: 2008 - 2011
Associated Alumni
Comments:
Bio, reprinted from Church News:

Jeffry Lynn Cooley, 62, Brazil Sao Paulo North Mission; Pueblo (YSA) Ward, Mesa Arizona Pueblo Stake; former bishop, stake president, counselor in a stake mission presidency, Aaronic priesthood adviser and missionary in the Brazil South Mission. Retired farmer. Born in Mesa, Ariz., to Eldon Whipple and Elona Peel Cooley. Married Melodee Elizabeth Turley, six children.

Sister Cooley is a former counselor in stake and ward Relief Society presidencies, ward Relief Society teacher, ward Primary chorister and Cub Scout leader. Born in El Paso, Texas, to Clarence Franklin and Anna Tenney Turley.
Modified: 2008-03-04
Last Login: