Mission History & Important Dates


(Most dates were taken from the "Deseret News 2001-2002 Church Almanac")

History of the Church in Honduras, Parts 1, 2, and 3


By David R. Crockett




(Originally found at http://www.ldsworld.com/gems/wws/history/0,2631,Honduras,00.html)

History of the Church in Belize, Parts 1 and 2*
By David R. Crockett
(Originally found at http://www.ldsworld.com/gems/wws/history/0,2631,Belize,00.html)
*Although Belize is no longer in the mission, information regarding the country is still presented here due to the historical relevance of the country in the mission.
---
Mission History & Important Dates




(Most dates were taken from the "Deseret News 2001-2002 Church Almanac")
The country of Honduras was first included in the Mexican Mission (although missionary work was never done there during that time), and has gone through the succession depicted in the graphic below, with the Tegucigalpa Mission having been divided twice, first with San Pedro Sula in 1990, and then more recently with Comayagüela in 1997.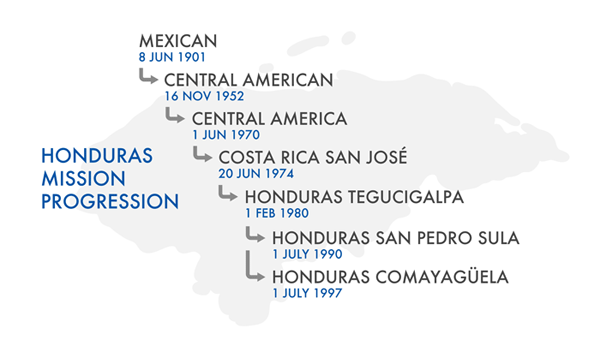 As stated, Honduras is divided into three missions: San Pedro Sula which covers the northern and western areas of Honduras; Comayagüela which takes in the central region of Honduras; and Tegucigalpa which encompasses the southern region. The two stars depicted in the map indicate where mission offices are located: San Pedro Sula and Tegucigalpa (where Comayagüela's offices can also be found).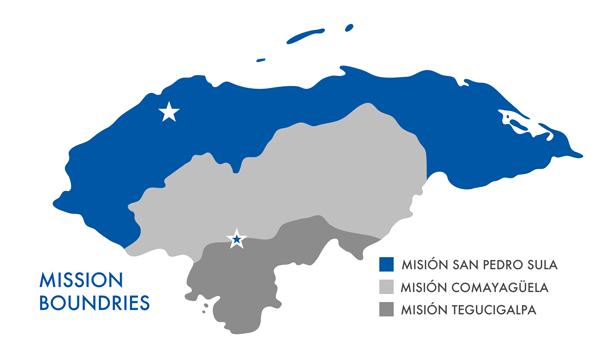 Historical Mission Dates:
Dec 10, 1952:

Missionary work began in Honduras a month after the Central America Mission was opened in Guatemala City, Guatemala


Oct 4, 1954:

Missionaries opened San Pedro Sula and a branch was organized there in 1955


June 4, 1961:

The San Pedro Sula District was organized


April 10, 1977:

The first stake in Honduras was created in San Pedro Sula


Jan 1, 1980:

The Honduras Mission was created with 6,300 members in the country


May 5, 1980:

Missionary work opened in Belize


April 17, 1983:

The Belize District was organized


Aug-Sept 1987:

Meetinghouses in Belize were completed in Orange Walk and in San Ignacio


July 1, 1990:

The Honduras Tegucigalpa Mission was divided, and Belize was placed in the new Honduras San Pedro Sula Mission


(Belize was moved to the Guatemala, Guatemala City North Mission at some point, and then returned back to the Honduras San Pedro Sula Mission.)

Sept 3-4, 1992:

Honduran Missions evacuated of all North Americans missionaries

Oct 1998:

Hurricane Mitch devastates much of Honduras

Jan 21, 1999:

President Hinckley visits members in Honduras after Hurricane Mitch

March 14, 2006:

Belize was transferred to the El Salvador, San Salvador West Mission.

June 24, 2006:

The Church announces construction of a new temple in Tegucigalpa, Honduras
Year-end 1999: 95,750 total members in Honduras (1.8% of total population), and 2,605 members in Belize (1.2% of total population).

---
History of the Church in Honduras, Parts 1, 2, and 3




By David R. Crockett




(Originally found at http://www.ldsworld.com/gems/wws/history/0,2631,Honduras,00.html)
In 1858, during the tensions of the "Utah War," Colonel Kinney, John B. Cooper, and James M. Harbin tried to sell thirty million acres of land to Brigham Young. The land was a narrow strip on the east coast in Central America, extending from Nicaragua into Honduras. President Young was not impressed with the proposition and when pressed further said: "I would not go to that country if it was covered fifteen inches deep in gold, and we owned it all. We are here, and here we will stay in this territory." (B. H. Roberts, Comprehensive History of the Church, 4:364.)
The Church did not arrive in Honduras until 1952. In November 1952, Elder Spencer W. Kimball, Elder Bruce R. McConkie, and President Gordon M. Romney of the Central American Mission opened up missionary work in Honduras. They visited the country for a couple days and paid calls on officials in the government including the president of Honduras and the Minister of Religion. They told these officials about the Book of Mormon. The president joked that if the Church brought back polygamy, he would join.
President Gordon M. Romney (my grandfather) related an interesting experience that happened as the brethren were eating breakfast in the restaurant of their hotel, in Tegucigalpa, Honduras:
I was impressed by a waiter who was waiting on our table at the hotel, and I turned to Brother Kimball and said, "Brother Kimball, I like this young man. I am going to give him a tract. I think that he might accept the Gospel." Brother Kimball, turning to me, said, "President Romney, you are now looking at the first elder in Honduras," as we had no members, we had no branch in the country of Honduras. I was astonished, and I said, "I hope you are right, and I believe you are right." (Gordon M. Romney, Conference Report April 1957)
As they were leaving, Elder Kimball told President Romney to deliver a copy of the Book of Mormon to Jose Ortega (the waiter) on his next trip to Honduras.
Within a few weeks, on December 10, 1952, President Gordon M. Romney returned to Honduras with two elders who were installed at Tegucigalpa. These elders were James T. Thorup and George W. Allen. President Romney visited Jose Ortega who told him: "President Romney, Apostle Kimball wrote me a letter! Did you bring me that book?" President Romney presented to him a copy of the Book of Mormon. Elder Kimball continued to write Jose monthly.
On March 21, 1953, the first five people were baptized. Jose Ortega, the waiter, was the first one to enter the waters of baptism in Honduras. The others who were baptized at this service were: Alicia Castanado, Corina de Bustamonte, Mario A. de Chotria, and Carmen B. Corina. A branch was organized in Tegucigalpa on the next day on March 22, 1953. (1997-1998 Church Almanac.)
President Romney explained in 1957 General Conference:
I did not ask for it, but he [Jose Ortega, the waiter] was the first one to receive the Aaronic Priesthood. I did not push him. I did not recommend it to the elders. It came about naturally, and when I left [in 1955] he was still a priest, as he had a little difficulty in paying his tithing. But he finally paid his tithing, and I understand that he is now an elder. But he turned out to be one of the best missionaries we ever had in Honduras. He taught the Gospel to his wife, to his wife's sister, to his family, and I think he was responsible for the elders baptizing at least a half dozen or ten members in Tegucigalpa, Honduras. (Ibid.)
Central American Mission President, Gordon M. Romney recalled the early days of missionary work in Honduras during 1953: "Tegucigalpa, Honduras merited four elders before long. It was a fruitful field. Within six months we had a fine branch of forty members. It was the miracle of the mission." (Gordon M. Romney Oral History, 20)
President Romney would frequently tract with his elders to encourage them in their work. He related this experience:
I remember one time at Tegucigalpa, Honduras. The elders were discouraged. They couldn't find friends. I said, "Have you approached the people in the grocery store downstairs?" No, they brought groceries there, but never approached them as missionaries. Down we went. I began to converse with the lady who was the proprietor of the small store. It went something like this: "Good morning, we are missionaries. We would like to get your reaction to some of our teachings. We have a wonderful book which is the history of your people here in the Americas. It is called the Book of Mormon. In this good it tells that your people will be changed, that from one generation to another they will became a white and delightsome people if they accept and obey these teachings." Her response was spontaneous as she explained, "For goodness sake, a month ago I had a dream, a very vivid dream, and in that dream I saw that if we would live right and accept teachings that would come to us we would become a white and delightsome people." The elders were aghast because they were living just above this woman's store and had failed to approach her on the gospel. (Gordon M. Romney, Oral History, 47)
President Romney asked these same elders if they had talked to the cleaners about the gospel. That hadn't. Away they went down the street and found another investigator.
Missionary work was opened up in San Pedro Sula on October 4, 1954. A branch was organized there a few months later, in 1955. This was the second branch in Honduras.
In 1960, membership in Honduras had increased to 411. The San Pedro Sula District was organized on June 4, 1961.
By 1970, there were 3,000 members in Honduras. In 1972 the First Presidency announced that an area of conference was to be held in Mexico City. Saints from Central America, including Honduras participated in the conference held in August, 1972, presided over by President Harold B. Lee. Milagro Alfaro, of San Pedro Sula, was quoted in the Ensign:
"I think we feel here in Honduras like other members in other parts of the world would feel if they knew the prophet of God was coming to their conference. For no reason on earth would I miss the conference in Mexico. What a great blessing it will be to see and hear a prophet of God. The though alone has caused me to weep." ("Los Mormones," Ensign, September 1972).
The first stake in Honduras was created on April 10, 1977. It was the San Pedro Sula Honduras Stake. Samuel Ben-Zion Ventura was the first stake president. The following year, on July 30, 1978, the Tegucigalpa Honduras Stake was created with Jose Miguel Dominguez as the president.
In 1980, membership climbed to 6,300. During that year, the Honduras Tegucigalpa mission was created. It included Honduras, Nicaragua, and Belize. By 1987, there were 23,000 members in the country.
In 1988, local members in Tegucigalpa became involved in missionary, in a creative way. Members volunteered to wash clothes for the missionaries, and the payment they would have received went toward purchasing copies of the Book of Mormon for missionary work. Mission President Manuel Najera estimated that this program would make 30,000 additional copies of the Book of Mormon available for placement during the year. (Church News, March 12, 1988)
In 1990 there were 43,000 members in Honduras. In July the mission was divided, and a new mission created, the Honduras San Pedro Sula Mission. This new mission also included the country of Belize. President Lehi Gracia of the Tegucigalpa mission reported that about 3,200 people were baptized in the northern portion of the mission during 1989. He reported the three quarters of the missionaries in the country were Hondurans. Half of those missionaries were converts for only a year when they were called. President Gracia said:
"They are first- generation members. Five years from now they will be a tremendous leadership force in this country. The area presidency has asked us to train them in administering the Church while they are on their missions. As soon as they are home and are married, they will become bishops and high councilors and branch presidents." ("Growth Leads to Four New Missions," Church News, February 3, 1990).
On June 1, 1991 Elder Russell M. Nelson of the Twelve dedicated Honduras for the preaching of the gospel. The prayer of dedication was offered on a mountain called El Pecacho (The Peak). El Pecacho is a 5,000-foot mountain that towers above the capital city of Tegucigalpa. Also ascending the mountain were Elder Rex D. Pinegar, Elder Gardner H. Russell, and about fifty local leaders. In the prayer he ask the Lord that "the people might be receptive to the teachings of the Lord and that the land itself might be blessed to be prosperous and productive, and be preserved." Elder Nelson added: "I never set foot on any place in the Americas -- North, Central, or the South American continent but that I realize that somewhere along these precincts are the people who tread the paths of those of Book of Mormon history... Things will be better now that this dedication has taken place. I look forward to a re-committing of resources and faith on the part of the people to make the Church even stronger than ever before." Elder Nelson also presided at a regional conference held at Tegucigalpa. ("Land of Honduras is Dedicated, Church News, June 15, 1991.)
In 1996, there were 65,000 members in Honduras, nineteen stakes, and two missions. During 1996, Salomon Jaar, of Tegucigalpa, was called as an Area Authority. He was a Church Educational System coordinator and had served as the president of the Tegucigalpa Mission. Also during 1996, LDS-GEMS subscriber, Kim Beckstead of San Antonia, Texas, was called as the new president of the Honduras Tegucigalpa Mission. He is the owner of real estate brokerage company and has a masters degree in international management. He has served a mission to Mexico. His wife, Ginger Beckstead graduated from BYU with a degree in Spanish education and theater.
On January 21, 1997 President Gordon B. Hinckley visited Honduras. He first traveled to San Pedro Sula and met with the 191 missionaries in that mission. In the evening he spoke to 8,100 members at the National Stadium. He said: "I hope the Church is the greatest thing in your lives. I hope you live it, love it, pray for it, send your sons and daughters in the mission field for it, and serve in it when you are called. This is God's holy work. . . . I just have such tremendous respect for you. You are our people. You are the kind of people we like to be with. . . . How much we love you." Thousands waved white handkerchiefs as President Hinckley left the stadium. ("An Outpouring of Love For Prophet," Church News, February 1, 1997).
The following day, President Hinckley arrived in Tegucigalpa. He was interviewed by the news media and then spoke to 224 missionaries of the Honduras Tegucigalpa Mission. He also called on U.S. Ambassador James F. Creagan. In the evening he spoke to 15,000 members at the National Stadium. He said: "You are a chosen generation, my brothers and sisters. You were preserved in the great plan of the Almighty to receive the blessings of the eternal gospel." (Ibid.)
During 1997, the Honduras Tegucigalpa Mission was divided, creating a new mission, the Honduras Comayagüela Mission, Elder William R. Bradford of the Seventy and president of the Central America Area said: "The work has grown in that area so that one mission president just can't handle all the area. Our baptisms rate is quite high and will remain high no matter how many missionaries are coming in. We are building from centers of strength. We have some cities outside, but most of the concentration is in the city or within an hour and half transportation to the city." ("Church to Create Eight New Missions," Church News, March 1, 1997).

---
History of the Church in Belize, Parts 1 and 2


By David R. Crockett
(Originally found at http://www.ldsworld.com/gems/wws/history/0,2631,Belize,00.html)
Belize is a small country (about the size of New Hampshire) on the east coast of Central America, on the Yucatan Peninsula. It was formerly known as British Honduras and received its independence in 1981.
On May 5, 1980, missionary work began in Belize. President Samuel Flores, president of the Honduras Tegucigalpa Mission, traveled to Belize with Elder Robert Henke. Ten other missionaries arrived the following day. Elder Merlin Mikkelson was set apart as the president of a newly organized branch. The first sacrament meeting was held on May 11, 1980, with a small group of missionaries in a hotel room in Belize City. The first convert, Ernesto Alay, was baptized on June 1, 1980. Elder Hugh W. Pinnock visited the country on August 30, 1980. (1997-98 Church Almanac)
Helen Reynolds was baptized on November 22, 1980, in the ocean near Belize City. She recalled that the branch had only 15-20 members, and met in an army barracks. Soon, her son George followed her into the waters of baptism. He recalled that the small branch was like a family.
One of the early converts in 1981, who later became a leader of the Church in Belize, was Harold Smith. He had talked to the missionaries on the street and invited them to come to his home. He later said: "At that time I was really looking for something. I had just quit attending another church because I had become dissatisfied. I was convinced we were supposed to serve the Lord, but I didn't know how. I fasted and prayed, and asked the Lord to show me the right way. When the missionaries came and taught me of the restored gospel, I realized that was the answer to my prayers." When he and his wife first attended meetings in Belize City, there were only about twelve members attending.
Another early member was Wilfred E. L. Nicholas of Belize City, who was baptized about 1981. During the day, some missionaries knocked on his door. Brother Nicholas related: "My wife told me some white men were here to talk to the head of the house. The following day they talked to me and said they were missionaries and that they would like to come back to talk to me concerning the gospel. I said 'Sure.'" They were taught the lessons and were soon baptized. He explained that after his baptism, home teachers visited him and read scriptures and "from then on, I didn't have the mind to turn back." ("Belize: 'Great manifestations of faith,' Church News, February 7, 1998).
On April 17, 1983, the Belize District was organized with Harold Smith as president.
In 1987, there were about 1,000 members in Belize, in seven branches. Meetinghouses were completed in Orange Walk and San Ignacio. Harold Smith, still president of the Belize District, said: "We have many members who introduce friends and relatives to missionaries. We are also sending out more full-time missionaries. Right now, we have two missionaries serving in Honduras, and we've had others who have already served and returned. In the past two years, we have run out of missionary application forms twice." ("Fisherman finds a 'real treasure," Church News, September 19, 1987).
President Smith said of Belize members: "One of our biggest challenges is that many members must go away for two or three weeks at a time in order to find work. This takes members out of their home branches."
As of 1987, about thirty Belizean members had received their temple ordinances. They traveled to the Guatemala City Temple by bus and plane. A few members would also travel by bus to the Mexico City temple. This trip was cheaper, but much further.
Also in 1987, Hilberto Casanova, who was baptized in 1984, became the first missionary to serve from Belize City. He was called to serve in the Honduras Tegucigalpa Mission
In 1990, the Honduras San Pedro Sula Mission was created. It included the country of Belize. At that time there were 1,100 members in the country.
On Dec 7, 1992, Belize was dedicated for the preaching of the gospel by Elder Russell M. Nelson. The ceremony took place in the suburb of Burrell Boon, nineteen miles west of Belize City. About thirty-six members gathered in a secluded, grassy garden on a farm. These members included the district and branch leaders. Rain fell before and after the service, but only a light sprinkle fell as Elder Nelson offered the prayer.
Elder Nelson dedicated Belize "for the purposes of bringing a rich harvest of choice souls unto thee, our beloved Father. . . . We pray that thou wilt help us to raise up a generation of obedient and faithful souls who will be worthy of all the blessings that thou has in store for thy faithful sons and daughters."
Elder Ted E. Brewerton spoke at the service and explained:
"When a member of the Twelve dedicates a country, the work goes forth with greater haste. . . . We have noticed dramatic blessings that have come to the [dedicated] nations because of the blessing of the Twelve upon those nations. It is a distinct blessing to have such a thing happen in the marvelous country of Belize, so our work can go forth with greater haste and so each of us will have an increased ability to achieve the mission of this, the Church of Jesus Christ." ("Tiny Nation of Belize is Dedicated," Church News, December 19, 1992).
Later that evening, 289 members gathered to dedicate the new Belize City meetinghouse. District President and pioneer member, Harold Smith, spoke to the gathering. "I feel the events of this day will rest upon all the people of Belize. I feel that this blessing will eventually touch all the lives and hearts of the people of this country. This marks the beginning of something new for us -- the strengthening of faith and of testimonies."
In 1992, there were 1,300 members in Belize, in three districts and seven branches. In July, 1993, the Guatemala North Mission was realigned. It included the country of Belize.
On November 13, 1997, the Saints in Belize were delighted to receive a visit from President Gordon B. Hinckley. About 1,200 members gathered in St. John's College Gymnasium. They had arrived in buses from all over the country. A small group even traveled by boat.
President Hinckley said:
"It is a great pleasure to be with you. I have never before been to Belize. No president of the Church has ever before been to Belize. This is a small country, but a very important country. And I am grateful for the privilege to be here. . . . Yesterday, we were at Chichen Itza, and a young man who had served a mission there and learned the Mayan languages, sang to us in Mayan. He sang, 'I Am a Child of God.' It was beautiful. I hope my dear friends, that every one of you can sing, 'I Am a Child of God,' that you will never forget, whether there be adversity, whether there be trouble, that there is something of divinity within you, something which came from your Eternal Father, who is our God."
President Hinckley encouraged the Saints of Belize to pay their tithing.
"[The Lord] expects us, my brothers and sisters . . . to pay a full tithing. Now many of you are very poor, I know that, and you [may] say you cannot afford to pay your tithing. It is a matter of faith. And if we expect the Lord to bless us as He has promised to do, we must do what He has asked us to do, that is, to pay our tithes and offerings. The Church does not take any money out of Belize. Instead, the Church puts a great deal of money into Belize so you never need feel that which you pay in tithing will leave this part of the world. You will help build the kingdom of God here in your native land, if you will do so." (Pres. Hinckley speaks to 75,000 in Mexico, makes visit to Belize," Church News, Saturday, November 22, 1997).
Also speaking to the gathering were Elder L. Tom Perry of the Twelve, Elder Julio Alvarado, Area Authority Seventy, and President Josue Ricardo Perez of the Honduras San Pedro Sula Mission.
By 1998, there were about 2,000 Belizeans Church members, comprising three districts and fifteen branches. Additional branches were expected to be created soon.
Belize District President P. Joel Munoz said:
"The Lord's way of life can work and it is working everywhere, and it is working in Belize among members of The Church of Jesus Christ of Latter-day Saints. We have seen great manifestations of faith among the membership of the people here in Belize." The Saints in Belize face economic challenges. President Munoz said: "As we can see, there are many poor living in the country of Belize who are faithful members of the Church, who pay a faithful tithe, and who have received a testimony of that law, and know of a surety that it is a commandment of the Lord, because they have seen the blessings in their lives. . . . For us, tithing is a living testimony because we live it day to day. That's the way it is with people everywhere who live this law, especially the people in our country of Belize. The testimony grows to be a tremendous testimony, an unshaken testimony." ("Belize: 'Great manifestations of faith,'" Church News, February 7, 1998).
Hilberto Casanova, the branch president of the Belize City Branch, reported that the Church was growing slowly in the branch. They have experienced between 40-50 new members each years and have had difficulty with convert retention. He said: "If we could keep up our home teaching and our visiting teaching, then we would always have contact with our members and bring them back to Church." The English-speaking branch had an average attendance of about 115-125 people.